"As educators…you can help students grow into…a global civic identity and understand how their decisions have an impact ranging well beyond their immediate vicinity. The United Nations is uniquely placed to work with you in instilling a sense of global citizenship in today's youth."

~Secretary-General Ban Ki-moon, 30 January 2009
CTAUN provides educators worldwide with opportunities to learn about the work of the United Nations and to incorporate this global awareness into curricula and school activities at all levels.
We organize conferences to bring educators together with international experts at the United Nations and around the country.
We facilitate curriculum development on international issues.
Through Best Practices Awards, we recognize teachers' hard work, dedication, creativity and resourcefulness.
We believe with Nelson Mandela that "Education is the most powerful weapon which you can use to change the world."

♦ ♦ ♦
The UN at 70:  Making a Difference
On 30 January 2015 some 500 Educators, Students, and NGO Representatives participated in a day-long conference with UN Delegates and Experts to learn why, how, and by whom the UN was founded, what has changed over these seventy years as the UN has adapted to each succeeding decade, and what the future holds as it moves forward to achieve new goals for  "2015 and Beyond."
An overview of "the only organization that has the worldwide membership, the global reach and universal legitimacy" to tackle today's many international concerns through diplomacy instead of through violence, and an opportunity to learn how everyone can contribute to "making a difference.".
To see the conference description go to CONFERENCES
♦ ♦ ♦
Did you apply something you learned at this CTAUN Conference, or at one of the previous CTAUN Conference in your classroom or community?  You may be eligible for the CTAUN BEST PRACTICE AWARD which is given out each year during the Annual CTAUN Conference.  Although the submission date for this year's conference is past, you may consider working on a proposal for a future conference. For information go to BEST PRACTICES AWARD for details.
♦ ♦ ♦
The conference also featured a display of winning posters from the  CTAUN POSTER COMPETITION.
♦ ♦ ♦
Check out our  TEACHER RESOURCES  on United Nations, Peace Education, the Millennium Development Goals (MDGs), and other Topics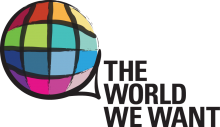 Discussions are taking place at the UN to prepare for post-2015 development after the Millennium Development Goals (MDGs) expire, to be replaced by the Sustainable Development Goals (SDGs).  You can  add YOUR voice by voting on www.vote.myworld2015.org and follow those discussions  at www.worldwewant2015.org

Visit us on Facebook
Education is a human right with immense power to transform.  On its foundation rest the cornerstones of freedom, democracy and sustainable human development.   –  Kofi Annan
---